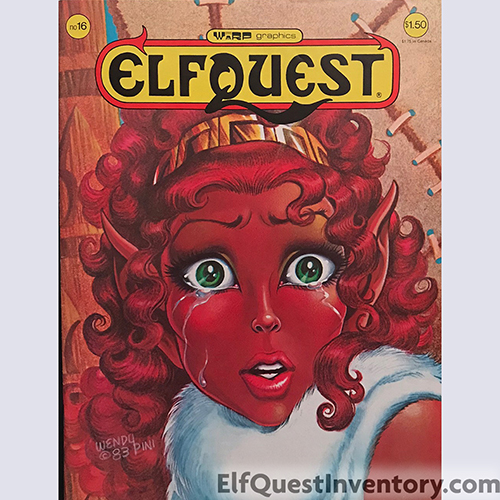 Cover
Item Type
Comic
Item Name
Original Quest
Issue Name
The Go-Backs
Number
16
Common Name
Magazine Size
Year
1983
Publisher
WaRP
Contributors
Wendy Pini
Richard Pini

Related Items
20
To add this item to your personal inventory, please log in or join!
Number of members who:
Own this - 5
Have this available - 0
Want this - 0
Favorited this - 0
Are DISO - 0
First Edition - $1.50
Canadian price of $1.75 printed under US price

There are some variations with all of the comics after 9, with no official editions after the first printing. There have been some variations found by fans, but officially there is only one edition.

Back cover color illustration of Two-Edge.

Announcement and eight page sample of A Distant Soil, created and drawn by Colleen Doran, edited by Richard Pini.

Announcement of new fan club "branch" in the UK

Additional material: Free gift from ElfQuest and WaRP Graphics, letters, A Day in the Lives, announcement of the first three sets of Ral Partha miniatures - Wolfriders, Journey to Sorrow's End, Personalities, list of conventions the Pinis planned to attend, Fan Club information, ad for the five shirts (Cutter, Picknose, two Nightfall designs, and the Trio) printed by Tony the T, ad for Journey to Sorrows End by Playboy Press, ad for the ElfQuest rollplaying game by Chaosium Inc, an add for the Donning Starblaze book 2 in both softcover and limited edition hardcover with slipcase.